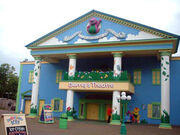 Barney's Theatre
was an attraction at UK theme park Alton Towers. Three times a day Barney and his friends BJ and Baby Bop performed a live show in Barney's Theatre. The theatre was located in the Cred Street (now Cloud Cuckoo Land) part of the park. The Barney theme was replaced by the Tweenies in 2003. Currently, the theatre (renamed the Cuckoo Theatre) is seasonally used for various show productions.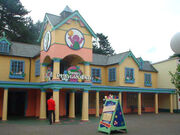 Barney's Playground
Edit
Barney's Playground was an play area for children. It housed three attractions for children of different heights, including a large fun and exciting bouncy castle, with tunnels and compartments full of soft balls and inflatable animals. Like the theatre, it has since been renamed Cuckoo Land Playground (and stripped of all theming).
Barney welcomes his friends (the audience) to the treehouse and leads into a sing along. BJ and Baby Bop join him
as the show goes on.
Barney Theme Song
Welcome to My Treehouse
If You're Happy and You Know It
If All the Raindrops
Mr. Knickerbocker
The Baby Bop Hop
The Exercise Song
The Dino Dance
The Clapping Song
I Love You
Ad blocker interference detected!
Wikia is a free-to-use site that makes money from advertising. We have a modified experience for viewers using ad blockers

Wikia is not accessible if you've made further modifications. Remove the custom ad blocker rule(s) and the page will load as expected.