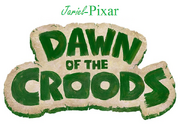 Dawn of the Croods is an American 2D-animated television series that is produced by Jariel-Pixar. The series is based on the 2013 animated film, The Croods, taking place before the events of the film. It premiered on December 24, 2015, on Netflix.
The adventures of the series take place many years before the film, with Eep having new friends, and the rest of the Croods facing new enemy creatures, such as bear owls.
Note: None of the original cast members from the film reprise their roles.
Main article: List of Dawn of the Croods episodes
External links
Edit
Ad blocker interference detected!
Wikia is a free-to-use site that makes money from advertising. We have a modified experience for viewers using ad blockers

Wikia is not accessible if you've made further modifications. Remove the custom ad blocker rule(s) and the page will load as expected.